Cultivators & Distributors all need CVaults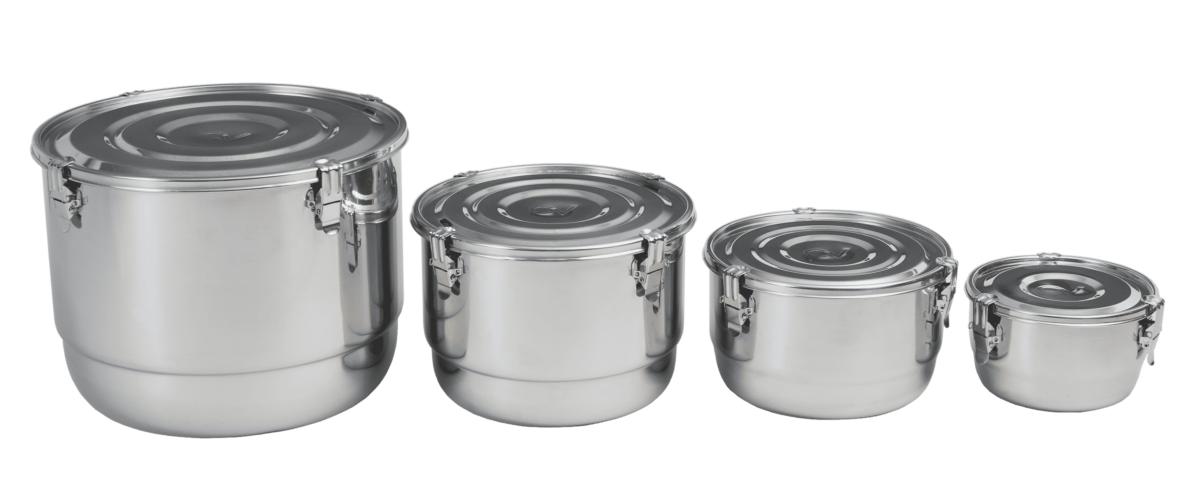 Hey, CannaCon fans! All of us here at FreshStor were looking forward to meeting you and getting the chance to introduce our amazing CVault storage containers! But then, suddenly — the world changed. And we're unsure when we'll have another opportunity to meet face-to-face and put our beautiful product directly into your hands. Major bummer.
Luckily, our good friends at CannaCon have generously provided us with this opportunity to introduce ourselves — in a virtual sense, anyway — and give you the rundown on our CVault products.
Everyone needs a CVault, trust us on this — but today we're focusing on two groups that will really benefit from our storage solutions: Cultivators and Dispensaries.
Hey, Cultivators!
You got into this business because you love it. There's a sense of pride in growing your own flower and knowing it's the best out there. You took great care in choosing the right seed, growing it in the right environment, harvesting it at the perfect time — and now it's time to cure and store it. Question: After putting such hard work into the growth of your flower, why would you take a risk now? Answer: You wouldn't. You shouldn't. So don't.
CVaults are the world's smartest curing and storage containers. They're secure and sanitary, super easy to use, and they deliver a consistent finished flower each time, every time. Smart cultivators use CVaults because:
They're made from 304 food-grade stainless steel. That means it enhances taste and improves smoothness. It's super easy to clean. It's durable and will last for years and years. And it's freakin' beautiful to look at it, if we do say so ourselves. Sleek and shiny, and totally secure — a container that truly exemplifies the meeting of both form and function.
They make you more money. And they do that by maintaining flower weight. Let's face it, your flower is your profit. And that perfect little flower that you worked so hard to cultivate can be damaged by external forces — light, oxygen, moisture, heat. All of these can be the kiss of death. But none of those are reason to worry with an airtight stainless steel CVault. CVault, aided by the use of Boveda humidity control packs, maintain a perfect environment. Which means less weight loss. Which means more profit. Hey, we're not just tootin' our own horn here — we've got the science to prove it! Check out the independent CVault study by WercShop.
They do what they're supposed to. CVaults deliver. Durable and reliable, they provide results that are sustainable. They improve your brand. They validate your reputation. By using CVaults consistently, your customers will always know what they're getting — a high quality and great tasting product.
They're worth every penny. CVaults can be used for curing and storage. They can even be used to revive old product that was previously kept in some far inferior container. (Yes, seriously.) And every CVault comes with a Boveda humidity control pack included. We do that because we care. CVaults come in a variety of sizes and even bundles for you to choose from, and you can even customize your CVault to uniquely brand your own proprietary flower. Ask us how.
Hey, Dispensaries & Distributors!
You love being in the know, being at the forefront, being cutting edge. You take pride in providing your customers with not only great product but also with a great experience. In a sense, you're inviting people into your place and asking them to party with you. And everyone wants their party to be the best.
There was a time when bud was sold in tiny little Ziploc bags. But we evolved. Now it's commonplace to have plastic flip-top tubes, medicine bottles and glass jars. And that's okay. But is it the best? Nope. (You can read why here.) There can be only one best — and that best is CVault.
You'll find that customers prefer product in CVault containers because:
There is little to no odor-leakage. Flower aroma stays inside until opened.
The product is super fresh. Airtight freshness is highly desirable to consumers.
The product is more potent. Protection from air, moisture and environmental factors is crucial for maximum potency.
There's humidity protection. Too dry and you have sad shake. Too moist and you get clumpy stickiness or mold. Either way signals age and loss of freshness. Goldilocks would have loved a CVault because the moisture level is not too dry, not too wet — it's just right.
The buds are pristine. CVaults prevent product from being smashed and losing precious trichomes. They protect flower by maintaining its original condition.
And so if consumers love CVaults, then it naturally follows that customers will love your dispensary for carrying those CVaults.
Smart distributors use CVaults because:
They increase check average. CVaults are beautiful. Sleek and shiny. But it's not just about pretty, it's about product protection. So while consumers may balk at pricing when it comes to purchasing flower, selling product in a CVault allows you to charge a higher rate as it creates a higher perceived value. Given a choice between a plastic container and a CVault, consumers concerned with quality will always choose product in a CVault and are willing if not eager to pay a bit more for the privilege.
They attract and retain new customers. CVaults are a great gift for new patients and recreational consumers. What did your competitors give them, a lighter with their dispensary name stamped on it? Which dispensary do you think that customer is going to remember? And since you can customize your CVault by white-labeling it with your logo, and since CVaults last for years, your dispensary will be promoted each and every time that branded vault is opened. And when their friends see it, they'll undoubtedly say "Hey, where'd ya get that?!" — and you'll have new customers with zero effort.
They show customer appreciation. CVaults can be used to provide discounts on refills for returning customers. They can be a bonus as part of a points program, or as a referral bonus. Everybody loves CVaults — and when you give them to your loyals, it is guaranteed to make them smile. And return with their friends.
They elevate your image. When you use CVaults, quality storage is immediately associated with your dispensary —and you attract a premium clientele. It's as simple as that.
They save you money. When you make the decision to use CVaults in your dispensary, you can sign up for our wholesale program and save big when you buy in bulk. It's not only wise to use CVaults — it can be a business expense as well. When Uncle Sam comes calling, using CVaults for promotion or as a "packaging cost" write-off can more than pay for itself in the long run.
At the end of the day, branded CVaults are a walking billboard for your business. And who wouldn't want that?
After thorough examination, I'm sure you can now see my point: Cultivators, dispensaries, aficionados — anyone in the know knows the value of a CVault. And while we're still all a little heartbroken we can't rave about them to you in person — and watch your faces light up the first time you see and touch one — we hope that we've at least piqued your interest enough to investigate our website. And just know that we are available through all social media channels and through email at [email protected] at any time to answer any and all questions.
Stay safe out there. This, too, shall pass. And until then … Stay fresh and be well.